PREPARE FOR THE JOB INTERVIEW
You have found a job position that aroused your interest, sent your CV and cover letter and now you are waiting for an invitation to a personal meeting with the employer. For most people, a job interview is quite stressful. You come to an unknown environment, have to meet and impress strangers, convince them of your qualities and get the job you are applying for. Well, we will help you to feel confident and relaxed, just read our advice and tips!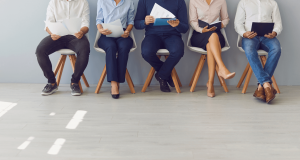 Find out as much information as possible about the employer – media, press, website and employer's social media accounts (so that you are not surprised by the question "how do you like our new product? "), also use your social contacts to find out the corporate culture and atmosphere
Be punctual – make sure you know the exact address of the meeting place with the employer, check in advance the public transport timetable or parking options so that you arrive at the meeting right on time
Prepare the questions you want to ask – you may get this opportunity at the end of the job interview so use it, if you don't have questions, it may seem that you don't care how the interview turns out
Do a personal inventory – reassess your strengths and weaknesses, prepare a few sentences about yourself, so that you don't grope when you are asked to "tell us something about yourself" or "why should we hire you? ", go over the information that you mentioned in your CV and cover letter
Adapt your clothing to the company culture and also take into account the job position you are applying for – times have changed, clothing requirements are more relaxed today, but still avoid

transparent clothes, deep necklines, skirts or shorts that are too short, tank tops
torn or damaged clothing, inappropriate signs and images, bold colours and patterns
excessive make-up, strong perfume, chipped nail polish
greasy and tousled hair
bold jewelry, handbags, inappropriate pair of shoes
ear headphones, switched mobile phone
chewing gum

Behave politely, beware of familiarity and exaggerated attempts to "be funny" at all costs
Come on time, keep calm and don't forget a nice smile, that won't spoil anything
Are you ready now? So good luck to you!